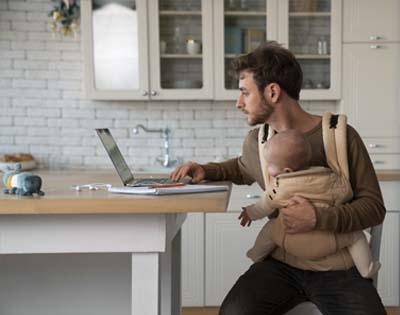 Technology is great until it suddenly stops. Now more than ever tools we use to communicate through the Internet are being put to the test as more people have to work from home, and students are having to learn through online classrooms and tools. Working from home can be positive for everyone but it also means that we need to protect the technology we are using. Doing this ensures that we can keep working and learning without falling into the hands of a cybercriminal. We have put together our top troubleshooting tips and tricks for keeping your devices protected and running smoothly while working from home:
(Seattle, Washington - March 19th, 2020) — GigabitNow is proud to continue to make our communities and customers our number one priority and join the FCC's Keep Americans Connected Pledge. GigabitNow has always worked to ensure the best possible Internet experience for our customers and fiber to the home communities.
GigabitNow understands the difficulties incurred by our customers during this time and continues to be committed to working with them to keep their service active and 100% free from bandwidth caps and throttling. The latest FCC call to action falls in line with our organization's goals as a 29-year private Internet company.
(Fullerton, Calif — 25th November 2019) — Construction of Fullerton's FiberCity™ network has commenced with some customers receiving service early in the New Year. SiFi Networks is funding, building and operating the city-wide fiber optic network throughout the City of Fullerton. Fiber will pass by every home and business within the City allowing every resident and business the opportunity to sign up for service, including Gigabit internet.
GigabitNow Selected To Provide Gigabit Internet Services Across The City Of Fullerton As Part Of The Largest Privately Funded Open Access FiberCity™ in the USA
(Seattle, WA – April 8th, 2019) - GigabitNow, a division of IsoFusion, a leading provider of Internet access and IT services on the west coast of the United States, announced today its involvement in bringing Gigabit Internet speeds to the residents and businesses of the city of Fullerton, California. GigabitNow will be delivering Gigabit Internet services via international fiber optic network developer, SiFi Networks' (SiFi), construction of one of the largest privately funded open access network in the United States. SiFi Networks will construct and operate the network, while GigabitNow will provide Gigabit Internet services, making fast reliable Gigabit speeds available to the community of Fullerton as part of efforts to revolutionize the North American telecoms market.

Seattle, Washington (April 17th, 2018) — GigabitNow, a division of IsoFusion, a leading provider of internet access and IT services in the Pacific Northwest, announced today that the Benaroya Companies have made an equity investment in IsoFusion and will also provide $14 million dollars in project financing capital which allows GigabitNow to significantly expand its operations. GigabitNow's new in-house financing capabilities will allow it to expedite its network construction financing for private communities and municipalities in the U.S. including the initial costs of network development and deployment.
"Over the last few years, we have seen many underserved communities, essentially abandoned by the larger Internet Service Providers (ISPs), causing them to be forced to live without the advantages of high- speed fiber broadband." said Stephen Milton, CEO of GigabitNow. "This investment and our continued expansion in the western United States allows us to continue our efforts to bring fast, reliable, fiber Internet connectivity to private communities and municipalities who can benefit from it most."
Seattle-based FTTH pioneer, GigabitNow, announces their first network in California
GigabitNow has commenced construction on the largest community- owned fiber to the home build in Sonoma County, connecting the underserved residents of the Sea Ranch community to the fastest Internet speeds in the region. Where other telcos and Internet service providers turned the community away citing a lack of growth potential, an isolated development, and difficult terrain, GigabitNow has stepped in to provide a state of the art fiber network with reliable speeds to every house in the community.
HFN & GigabitNow upgrade Fiber to the Home (FTTH) network for more speed at lower price effective November 2015.
ISSAQUAH, WASHINGTON—November 2nd, 2015—The Highlands Fiber Network (HFN), a Fiber-To-The-Home (FTTH) network for the Issaquah Highlands community, is now offering Gigabit Internet connectivity for $70 a month. Due to the growing demand for FTTH and faster fiber Internet, GigabitNow, a Seattle-based fiber Internet Company, is lowering the price of its Gigabit fiber service for residents in the Issaquah Highlands Community. HFN has been offering Gigabit-class Internet since 2011 for under $200 per month. Through GigabitNow's upgraded services, HFN will be able to offer residents of the Issaquah Highlands Community world-class gigabit Internet access for an unbeatable price.