Whether you're a professional competitor or playing just for fun, you have most likely experienced lag that ultimately altered the outcome of your game and ruined the experience. Gamers know that having a reliable Internet connection is important for online gaming. Fiber Internet seamlessly supports multiple devices at the same time, so you can power up multiple gaming devices in your home for the ultimate gaming experience. GigabitNow fiber Internet gives you fast, reliable connections with low latency and the fastest speeds in Columbus!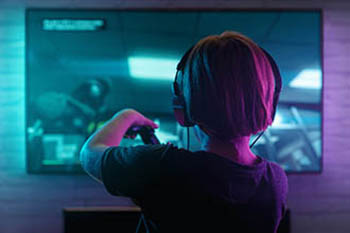 Today, gaming technology is keeping gamers excited and engaged with endless new features and much improved graphics for a better overall gaming experience. But to experience these games as creators intended, you need a fast and reliable Internet connection without any interruptions like lag or buffering.
We have compiled the top reasons why fiber Internet is best for gamers of all types below. Continue reading to learn why you should consider upgrading to fiber Internet.
Speed
Fiber Internet gives you the best speeds for online gaming. Fiber optic cables perform at the speed of light, much faster than the average copper wire connections you find with cable and DSL. With fiber Internet you can quickly download a 50 GB game with a 1 Gig connection in just a matter of minutes compared to slower speeds provided by cable and DSL that will take hours. A gigabit fiber Internet connection makes it so that you will never have to worry about keeping up with your opponents or waiting, for what feels like forever, to download large files.
Less Lag Time
Game lag is one of the most frustrating issues to experience while playing online, especially if you're in a multiplayer or tournament setting. If you are playing a first-person shooter game and you lag out — you're dead. Slow response time is caused by latency issues better known as packet loss. Latency is the speed information gets from your gaming console to the game server and back. Fiber Internet speed travels at the speed of light, ensuring your games are faster than any of your opponents who rely on more widely available cable connections.
No More Streaming Issues
Whether you're streaming your favorite movie or using Twitch to show off your match, you'll need a buffer-free experience. Streaming requires more reliable bandwidth than your usual online gaming session. Upload speeds are an important factor, so if you find yourself with slow upload speeds, attempting to broadcast to streaming sites will be extremely difficult if not impossible. If you're relying on a copper connection, you'll experience slow uploads, mainly because cable and DSL providers offer asymmetrical speeds. GigabitNow provides all of their customers with symmetrical speeds, this simply means their upload will be just as fast as their download. Plus, we do not throttle your Internet speed or cap bandwidth usage giving you awesomely fast fiber Internet and Wi-Fi!
Explore the World of VR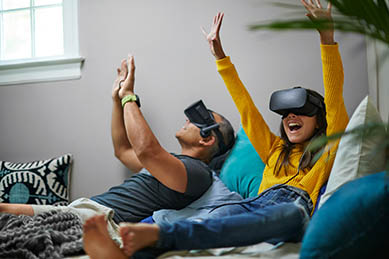 Fiber Internet is prepared for what the future has to offer Internet users. GigabitNow fiber Internet easily integrates with new technology as it is developed. Our fiber Internet allows you to experience the game exactly how creators intended.
Virtual reality is the newest wave of gaming, it allows us to interact with a game in a whole new way. VR works only if your Internet can keep up! GigabitNow will give you more than enough bandwidth and the fastest speeds to enjoy your VR game without lag.
Gain an Edge with Wi-Fi 6
Want an advantage over your competition? GigabitNow offers an optional Gigabit Wi-Fi router includes a Wi-Fi 6 Fiber router giving Columbus residents an edge over their competitors who do not have GigabitNow fiber Internet. Our Wi-Fi 6 Fiber router uses the newest Wi-Fi technology available today, this technology is game changing. Wi-Fi 6 is better than older Wi-Fi standards, because it gives additional bandwidth to users, creating a better overall online gaming experience. Your Wi-Fi 6 Fiber router will support your household's usage, even when your family is streaming Netflix in 4k, video conferencing, and uploading all the family photos all while you're trying to game online. New Wi-Fi 6 technology is more efficient, because it enables the router to communicate with multiple devices at the same time with ease.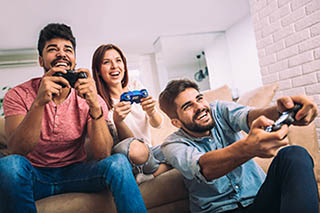 There is only one choice for gamers who need consistent speed and reliability and it's fiber Internet. If you are a gamer in Columbus and want to improve your gaming experience or get an edge on your competition, check out our 2 Gig Connection giving you awesomely fast fiber Internet and experience the Internet how it is meant to be!
---