GigabitNow Fullerton activated our first residential customer in Fullerton on June 22nd, bringing GigabitNow fiber Internet service to Southern California!
The FiberCity™ construction team recently completed the first phase of construction on the 100% fiber optic network being built exclusively for Fullerton, California — as a result on June 22nd, a small neighborhood of residential homes in West Fullerton is now eligible to be installed and serviced. As construction continues, more and more neighborhoods will have access to the new fiber network and fast GigabitNow Internet services.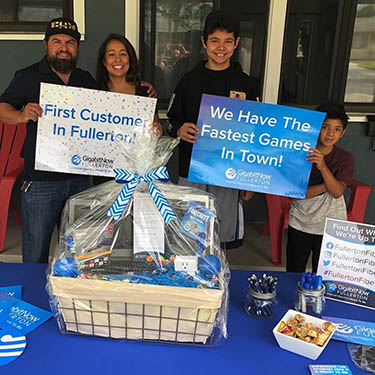 Our first lucky household was connected with awesomely fast, reliable gig speeds Internet service. The happy family celebrated this exciting event with Fullerton city leaders, the Fullerton FiberCity™ President and our own GigabitNow City Manager. The North Orange County Chamber of Commerce also arranged a successful ribbon cutting commencing the special occasion. To the family's surprise, GigabitNow Fullerton gifted the family some awesome prizes for being the first customer in Fullerton.
Those in attendance were: Mayor of Fullerton, Jennifer Fitzgerald; North Orange County Chamber of Commerce President/CEO, Theresa Harvey; SiFi Networks President, Ben Bawtree-Jobson; and our own GigabitNow City Manager, Bailey Kline.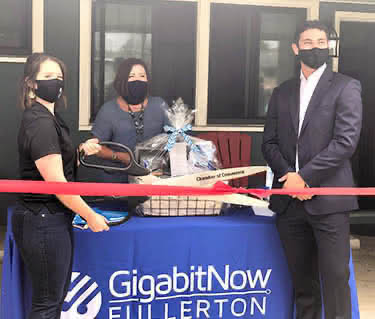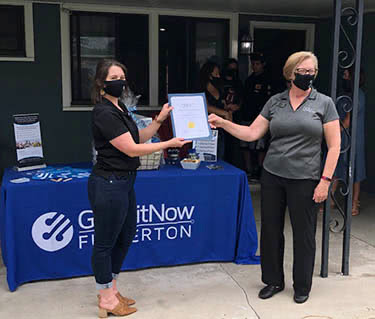 The family pre-registered for the new fiber Internet service through the GigabitNow Fullerton website and was one of the first in their neighborhood to receive the new service. They signed up to receive 1 Gbps fiber Internet speed and chose to go with the optional Gigabit Wi-Fi Plus service and Wi-Fi 6 router. Using an average of 12 or more devices, the parents knew GigabitNow's 1 Gbps Internet speed with no data caps or throttling would support all of their family's usage needs.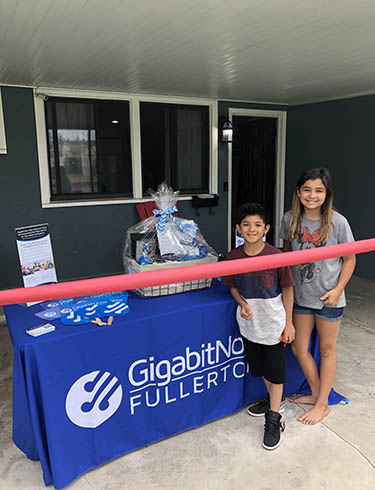 The family's youngest child was thrilled to use awesomely fast fiber Internet for his video games, while the mother shared her son's excitement for a better Internet for personal use and work. As many people are, she is currently working from home to follow social distancing orders and was struggling to do so with her limited Internet options. Now that their home has awesomely fast, reliable fiber Internet, she will be able to continue working remotely and perform at the level she is proud of.
The Gig Package for $79 a month is great for any household who would like to get the best value, speed and experience from their new fiber Internet with GigabitNow Fullerton. The gig speed option gives you the same up and down Internet speeds, better known as symmetrical speeds, so you get up to 1 Gbps up and down. GigabitNow Fullerton's fast, reliable Internet speeds do not have data caps or throttling, letting you experience the Internet How It Is Meant To Be!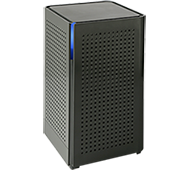 The family chose to upgrade to the Gigabit Wi-Fi Plus and Fiber Gateway Plus service, which is a phenomenal deal for only $11 a month! This optional service includes additional customer support that ensures your Wi-Fi connection is running smoothly and always online when you need it the most. This service upgrade will make you feel like you have a personal Wi-Fi technician to make sure your Internet experience is always working at its best.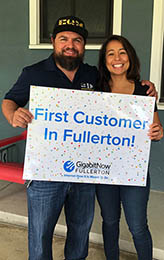 Our Gigabit Wi-Fi Plus option adds an additional state-of-the-art router to the free Wi-Fi gateway that comes with every install. This hardware option has enhanced routing and capabilities, including the latest Wi-Fi 6 wireless-technology that you won't find anywhere else. This Fiber Gateway Plus option also automatically adapts its signal to its surroundings, any neighbors' wireless routers, and your devices to give you the best Internet experience possible. Find out more about the optional Gigabit Wi-Fi Plus and Fiber Gateway Plus service to see how this will benefit your household.
Congratulations to our first customer, and we look forward to servicing more homes in West Fullerton and eventually, the entire city of Fullerton, allowing every home and business to experience the Internet How It Is Meant To Be!
---