Do you ever wish you were able to personalize, monitor, and control your home network? Great news, GigabitNow is making that wish a reality for all Fullerton residents! GigabitNow offers an optional Gigabit Wi-Fi Plus Service for residential customers. This Gigabit Wi-Fi Plus Service not only equips customers with the fastest Wi-Fi available using Wi-Fi 6 technology, it also includes a free mobile app to control their home network. The GigabitNow app gives an overview of your home network easily allowing customers to see potential issues, troubleshoot or alert GigabitNow technicians of an issue.
The GigabitNow app expands home network options and simplifies technical support for GigabitNow customers. The app is loaded with useful tools and reports so customers can check how their home network is performing at any time, from anywhere. Don't worry about encountering technical issues or needing assistance, the Gigabit Wi-Fi Plus Service includes 24/7 remote support to help ensure your home network is running smoothly.
The GigabitNow mobile app is included in the Gigabit Wi-Fi Plus Service. The only thing you need to do is visit the App Store or Google Play to download the GigabitNow app to any smart device. Once the GigabitNow app has been downloaded customers will have the ultimate control of their home network!
Find out how GigabitNow's Gigabit Wi-Fi Plus Service with the GigabitNow app will simplify home Wi-Fi usage:
Network Notifications
Stay informed of important network notifications and react quickly. When you open the GigabitNow app you will see the dashboard that includes all new notifications in the upper right corner. Receiving notifications when opening the GigabitNow app easily allows you to know what is going on with your home network.
Test Your Speed
See your latest bandwidth test results! After you run your first bandwidth test the information will appear through the main menu of the GigabitNow app. This allows you to quickly see your network performance — how quick your download and upload speeds are. You can find out more about Internet speed and testing in our previous blog. Running periodic tests can be helpful for getting a better understanding of your networks performance over time and will assist you in identifying potential issues with slower speeds.
Set-up SSID and Password
The GigabitNow app allows you to easily set-up and change your home networks SSID and password. The SSID (Service Set Identifier) is the name of your Wi-Fi network and is used to connect devices wirelessly to your gateway to get awesomely fast Wi-Fi. Changing your SSID and password from the default credentials can help improve your home network security, create a more personalized home network, and help avoid confusion with other routers with similar names in your area.
Set-up a Guest Wi-Fi Network
When you have a guest in your home who would like to connect to the Internet through your home Wi-Fi it is important that they have a guest Wi-Fi network to use. Learn about why a guest Wi-Fi network is important to set-up. The GigabitNow app makes creating a guest Wi-Fi possible and simple to complete!
View Connected Devices On Your Network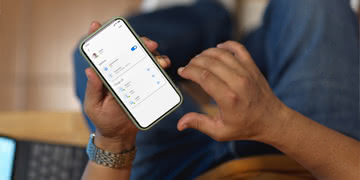 When you open the GigabitNow app you will see all the devices connected to your home network under the dashboard. Each connected device is placed into a category making it easy to see how each is connected to your network. When you tap on the icons you can take a closer look at the details about each connected device.
The GigabitNow app keeps you informed and grants you the ability to quickly access data, tools and reporting so that you can easily control your network. Experience the Internet how it is meant to be with GigabitNow's Gigabit Wi-Fi Plus Service in your home!
---