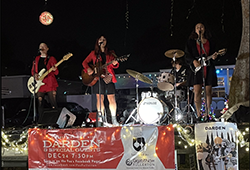 The historic Fox Fullerton Theatre is hosting a virtual Christmas Eve Special performed by local favorite Darden, special guests Bubba Blues, Melissa Jane Dichiera and The Convertibles, DenManTau, Joe N Loretta Tatar, Phil Shane, Michael Jost, and G.B.H.'s Ross Lomas. The holiday concert will be streamed to the Fox Theatre Facebook page on Christmas Eve at 7:30pm. GigabitNow Fullerton is proud to be the presenting sponsor of this special event!
After a day of shooting their Christmas Eve Special on Sunday, December 20th, Darden took to the neighborhoods of Fullerton to get the community in the holiday spirit by playing some Christmas classics. GigabitNow sponsored a flatbed truck where Darden played for those who lined the sidewalks. Our own Fullerton Gigabit City Manager, Bailey, and furry helper, Jake (the dog), followed the truck throughout Fullerton, spreading holiday cheer and music to passers-by. View a snippet from Sunday's performance.
You can catch the live performance on December 24 at 7:30pm by visiting the Fox Theatre's Facebook page.
---