While families are social distancing by working and learning from home, many parents are in need of assistance with their children, now more than ever! Smart home devices are designed to make life more comfortable and easier, and for parents, some of these smart home devices are considered more of a necessity than a luxury.
Smart home device functions may seem entirely unnecessary to some people but imagine holding a squirming baby and walking into a dark nursery or waking up freezing with a sleeping toddler on your chest. Lights that turn on when you walk in a room or a thermostat you can control from your smartwatch may seem like small benefits to a lot of people, but if you are a parent, you know this can be a tremendous help!
GigabitNow fiber Internet is here to help you every step of the way! Both of our fiber Internet packages offer fast, reliable speeds for both downloads and uploads that allow you to do more, faster. Your smart home devices provide a sense of convenience and with the use of fiber Internet, all of your devices will perform seamlessly! Below we have compiled a list of smart devices that can be useful for all parents from monitoring your children's health and well-being to your family's safety and overall security of your home.
Monitoring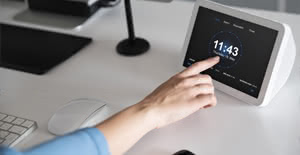 Smart home devices can help you monitor your home inside and out! Using a smart home monitoring system can easily allow you to monitor energy usage in the home and access all of your smart home technology. These can help to manage tasks your children may forget, such as turning off the lights, fans or other appliances.
Other smart home devices like smart refrigerators will allow you to stay on top of your grocery needs. Smart fridges are programmed to sense what kinds of products are being stored inside the fridge and assist with keeping track of them. Many smart fridges will allow you to share the shopping list created based on what products need refreshing through your mobile device. Some smart refrigerators even have the capability of answering basic questions about the stock of specific products in your fridge while you're at the grocery store.
Other smart home monitoring systems can set routines for your child. Many smart home devices can be used to set alarms throughout the day and reminders for tasks like brushing your teeth after breakfast. This could be a great help for parents working from home while managing their child's "distance learning"school schedule. Routines can also be set through thermostat temperature controls where a difference in temperature is set as a reminder for your child to begin their math lesson or move outside for P.E.
Devices like the Circle allow parents to filter content, set screen time limits on connected devices, create bedtimes, and set other custom limits on their children's devices. With children learning from home and relying on devices to connect to their school it is incredibly important for parents to keep an eye on their usage.
Health and Well-being
Smart technology in the home can help parents track and monitor the health and well-being of their children. From using a smart video monitoring system for your sleeping baby or toddler, to making use of gadgets like wearable monitors to track breathing, heart rate and temperature. Monitoring systems can even help you to keep your child active and eat healthier.
These devices can help make bedtime more relaxing by creating a nightly routine; assisting with closing automated blackout blinds, lowering lights, playing lullabies or white noise, and turning off electronics.
Safety
Keeping your home safe and comfortable by monitoring air quality and carbon monoxide accumulation or other chemicals in the home can all be done through smart home devices. This is even more important if your child has asthma or allergies. The use of these smart devices will keep your mind at ease by continually supervising your home!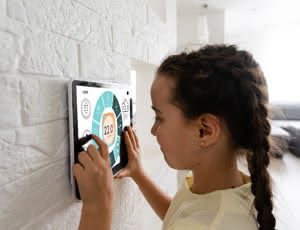 Another way to support the overall safety of your children at home is to install drawer, door, window and other smart sensors. Children, no matter what age, will always be curious and exploratory! They may find cabinet drawers, windows, or even a gate to open and investigate. Installing sensors that detect movement, around and inside your home, can be set to immediately alert you! These smart sensors will keep your children out of danger and keep you informed of their whereabouts.
Security
Current technology makes it easier than ever before to keep track of your children. Smart home monitoring systems have multiple applications for keeping your household safe. Delivering live streams directly to your mobile device, these monitoring systems help you keep your family and home protected.
Home security automation technology allows you to keep track of who enters and leaves your home. Some of these apps can also alert you to unusual movement in or around the home.
Smart locks are another great safety device to have in your home! Smart locks allow you to open and lock doors from your mobile device. If your child forgets to lock the door, you can do it for them through your smart phone. These devices can also allow you to grant access to trusted friends or family members, so they can enter your home without keys if needed.
See who comes to your door with a smart doorbell. Whenever someone comes to the door, the doorbell sends a live video stream to an app on your mobile device. In case you're not home, you can choose to answer the door remotely or call a member of the household and tell them how to respond to whoever is at the door.
Whether you're busy inside working or not at home, using geofencing can help you create safe virtual boundaries for your family. Geofencing uses GPS technology to create virtual boundaries that inform you when the set boundary is crossed. There are programmable features that can be used with smart locks to lock or unlock doors and turn on a security system. They can also create proximity alerts to keep your children close so they're not wondering too far away.
With so many smart home options to help you and your children, GigabitNow fiber Internet is there every step of the way with fast, reliable Internet speeds that help to continuously power all of your smart devices so they work seamlessly. Helping to keep your mind at ease by keeping your child and home safe.
---