After doing some homework you've decided to cut the cord from your cable television or satellite service provider. So now what? There are many options for streaming TV, movie and music content on the market today. How do you know what to choose? Below we cover some of the best internet devices and content platforms available to use with your Fullerton Fiber Internet.
Have you ever watched YouTube on your phone or computer? If so, you've already streamed video content. You can watch TV or movies and even listen to music from virtually anywhere across several different devices or use hardware to stream. You can stream your favorite television shows, movies and more from any of the devices below.
Where to Watch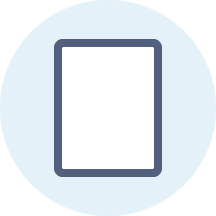 Tablet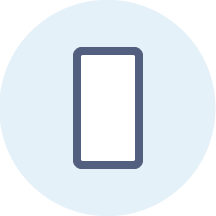 Smart Phone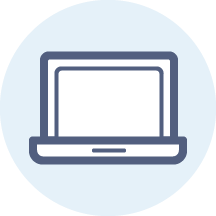 Computer/Laptop
TV
Hardware to Help You Stream
Standalone Devices
A streaming device is a small box or stick that connects to your TV. It receives a Wi-Fi or cable signal from your home network and converts that signal into a format your TV can display. The streaming device may come with a remote control and allow you to select different streaming services, like Amazon Prime, YouTubeTV, Netflix and Hulu.
There are a number of choices you can choose for streaming devices and most are inexpensive, ranging from $30 to over $100. Your streaming device will define what streaming services you can receive, what quality of picture you can see (e.g. standard definition, high definition, ultra hi-def or 4k) and how the user interface works. The best way to make a choice is to review the different devices that are available at their various websites that explain them in more depth.
Among the many streaming boxes and devices available below are the most popular on the market.
Amazon Fire TV, Roku and Apple TV all offer many channels, convenient remote controls and quick response times. While major channels and services, like YouTube TV, Netflix and Hulu, are found on all devices, there are differences. Historically, Roku offers the most extensive lineup, however, Amazon and Apple are catching up. Newer models work faster, have better remote controls and feature content like channels and games.
Smart TVs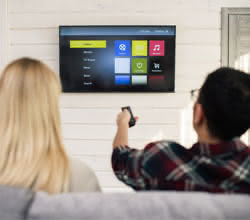 Purchasing a Smart TV is another option. A Smart TV is equipped with an ethernet port and built in Wi-Fi making them able to connect from anywhere in your home. Streaming apps are built into this type of television and has features where you can go in-between regular TV, and a streaming app service such as Netflix, Youtube TV and others, or you could find yourself surfing the web through a web browser or holding a video conference through a camera on the Smart TV. Most Smart TVs are able to update streaming apps to include new content and new app services you may be interested in; this is done automatically through the television which acts like your computer or smart device when installing updates. Popular Smart TV brands include Samsung, LG, Sony, Panasonic, Toshiba and Vizio among others.
Video Game Consoles
Don't leave out your video gaming console! These act like your cable TV box where they can connect to video-streaming services, video gaming consoles offer 4k support, HDR movies, virtual reality gaming and live TV. Popular video game consoles for streaming are: Xbox One S, Xbox One X, PlayStation 4 Slim, PlayStation 4 Pro and Nintendo Switch.
Connecting Devices
Using hardware to plug into your TV through a streaming device or a gaming console such as Microsoft Xbox, Sony PlayStation or Nintendo Switch to stream the latest and greatest is simple. Connecting your TV to a streaming device is simple as instructions on how to connect and setup are always included. An HDMI is a universal connection to a TV and is done via the HDMI connector. HDMI connections are the industry standard for video streaming.
Since 2009, most TVs have at least one HDMI port. Newer TV models will have several HDMI ports. If your TV does not have an HDMI port, you should consider a new TV. As newer TVs will have much improved picture definitions and new features especially you choose a Smart TV.
Types of Multimedia Connectors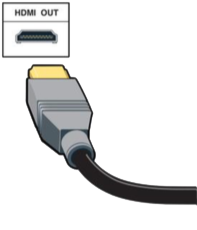 HDMI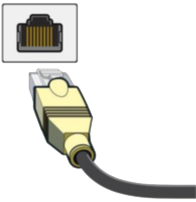 Ethernet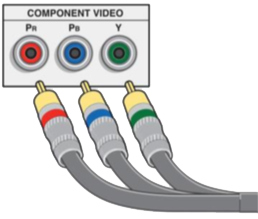 Component
Streaming Services
Streaming service is like a website that plays videos. Many have subscription fees, and some specialize in different types of content. Some streaming services are developing their own creative content like Netflix and Amazon. There is a wide variety with different types of content and focuses.
Streaming Services with Content Libraries

One of the oldest and largest streaming services, Netflix is well known for an extensive library of popular TV and movies. As well as creating their own award-winning content. Netflix offers multiple levels of streaming quality but not all content is available in HD or UHD.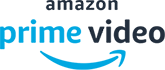 Amazon Prime Video offers a 30-day free trial then is free for Amazon Prime members or can subscribe for a monthly rate. There is a large library of TV shows, movies and original content. Many of these shows are free for members, but other shows and movies are for rent.
Acorn TV is primarily focused on British content in TV and movies. This streaming service has a low monthly rate.
Streaming Services with Packages of Content Similar to TV
Streaming Services with Specific Channel Content
Streaming Services with User Contributed Content

A majority of content on YouTube is from individual people. Larger, more successful channels may have companies behind them to help improve production values. This streaming service is being adopted by more mainstream media as a method to distribute their own work or trailers for their work.

Twitch is primarily focused around watching personalities play video games. It has recently expanded into areas where you can watch people create artwork or crafts. This service is free and users have the option of subscribing to their favorite creators for a fee.
Streaming on the Go
A streaming alternative for people who want to watch their home TV programs such as local sports teams no matter where there is a Slingbox. This is a TV set-top box you keep in your home, send encodes to your TV signal and transmits it privately and securely across the Internet. You can watch from wherever you have Internet access such as, a hotel room or coffee shop.

Streaming Music Service
Streaming from the internet is one of the most popular ways to access and listen to music. Streaming helped the music industry to reach more people around the world as well as to introduce artists new and old and music genres to grow. Just by being able to use one's computer, tablet, smart phone, smart devices or Smart TV to listen. Below are the top options of music streaming services from Consumer Reports.
Are you ready to cut the cord and make the switch to streaming? It is a tough decision deciding which streaming devices and streaming platforms to use at home. They all offer great options when replacing your cable or satellite service package and may introduce you to even more new content. Fullerton Fiber Internet is a game changer, allowing you to stream multiple devices at the same time without throttling or limiting their use. Every member of your family can stream flawlessly without experiencing long buffering cycles or disconnects whether it's watching, listening, playing or working. Choose the streaming option that works for you and your household and let Fullerton Fiber Internet do the rest!