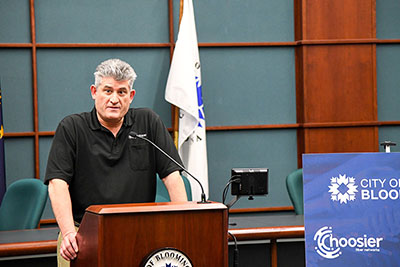 Bloomington, Ind. — Mayor John Hamilton, fiber internet service provider GigabitNow and fiber network developer Hoosier Fiber Networks today announced that Bloomington's first homes are ready for fiber internet home connections and order availability for GigabitNow fiber internet service.
One hundred homes in the South Griffy neighborhood are now ready for connection to Hoosier Fiber Network's fiber internet network, with an additional 3,700 homes expected ready for connection by the end of May. Since the project began, nearly a quarter million feet of fiber optic conduit have been laid, and 3,676 homes passed throughout Bloomington.
"Bloomington has long sought to bring state-of-the-art fiber internet to our community," said Mayor John Hamilton. "With the first homes ready for connection, we are seeing on-the-ground progress on our goal of serving every member of our community with the high-quality, high-speed fiber internet they need to live, work and learn in the 21st century. A digital transformation of our city has begun"
Only fiber is robust enough to deliver the stability and symmetrical upload and download speeds needed for remote work, education, and healthcare. It is less prone to outages due to built-in redundancies, and it is a generational solution with nearly unlimited scalability and adaptability to future applications.
"We are pleased to invite members of the South Griffy neighborhood to sign up for fiber internet and for residents across the city to access real-time updates on when GIgabitNow will reach their communities," said Steve Milton, Chief Executive Officer and Chief Technology Officer, GigabitNow.