You have probably heard about the new, state-of-the-art fiber optic network being built exclusively for Placentia. With unmatched reliability, this new network will allow every Placentia resident and business to experience fast, reliable Internet speeds!
Fiber Internet will not only benefit residential users and businesses, but it will turn Placentia into a Smart City. Fiber Internet plays a crucial role, providing communications infrastructure that can transport a lot of data with low latency. Easily allowing the use of Internet of Things (IoT) and cloud-based systems.
Due to inadequate and poor quality of Internet offered by the incumbent telecoms like AT&T and Spectrum, Placentia was in desperate need of a high-speed Internet solution for residents and businesses. According to SiFi Networks, Placentia was an ideal candidate to build a FiberCity™ in the United States. With support from the City of Placentia, SiFi Networks designed and have begun constructing this fiber network using no existing infrastructure and no tax dollars. Get to know more about the companies who are behind this state-of-the-art communications project in Placentia, below.
Who is behind Placentia FiberCity™?

SiFi Networks is an international fiber optic network developer who pride themselves on innovative construction methods, financial modeling and collaboration. SiFi Networks takes care of the majority of work for communities in that they fund, build and operate state-of-the-art community-wide fiber optic networks that deliver next generation application which include superfast Internet, video and phone creating SiFi Networks' FiberCities™ which now can be found throughout the United States and Europe.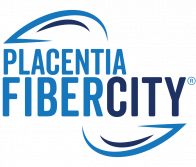 SiFi Networks is creating FiberCities™ which are open access fiber networks across the United States. Placentia FiberCity™ is one of the first FiberCity™ of its kind in the U.S. where fiber will pass every single home and business in the city with Smart City access points put in place. Smart City access points essentially future proofs a city for generations to come.
Privately owned, SiFi Networks, is responsible for funding the Placentia FiberCity™ project. The project is unique in that it is privately funded from start to finish, not using any tax payer dollars for any part of the project.
In Placentia, SiFi Networks is constructing the fiber optic network using cutting-edge technology with a method called microtrenching. There will be several hundred miles of fiber optics installed underground via microtrenching. This will make the construction process go along faster with minimal disruption to city streets. When you see the construction crews out and around know they're doing their best to get the fiber network constructed as fast as possible making Placentia SiFi's first FiberCity™ at a time when fiber Internet is in demand.
Meet your FiberCity™ Internet Service Provider!

GigabitNow is a division of IsoFusion, Inc, one of the largest privately-held ISPs in western Washington. IsoFusion is a full solution provider of Internet connectivity and IT solutions that cater to local businesses, as well as providing complex solutions to companies with a national presence. IsoFusion offers a wide spectrum of Internet services backed by a high capacity network and customer focused support. Our full catalog of services spans an amazing range of IT services and expertise including, server colocation and custom data center solutions, business connectivity services, fiber and ethernet connections, private and hybrid cloud, network design, and cabling installation, even live 24/7 systems monitoring and maintenance.
Due to increased customer demand, IsoFusion developed the GigabitNow division which focuses on connectivity for planned communities and municipalities nationwide. GigabitNow has over 32 years of experience in connectivity and has been developing fiber networks since 2004. One of our networks, the Highlands Fiber Network, serves over 4,000 homes and businesses in Issaquah, WA and was recognized as a pioneer of FTTH by Broadband Communities in 2013.

Issaquah Highlands community, home to Highlands Fiber Network powered by GigabitNow.
GigabitNow focuses on suburban, regional communities, rural and underserved areas. We believe in community self-reliance regardless of location which is reflected in one of our most recent projects along the underserved northern California coast. GigabitNow is a one stop solution provider who develops customized fiber Internet solutions for public and private communities, multi-dwelling properties and existing networks by taking care of everything—design, construction, operation, services, billing and 24/7 support.
SiFi Networks felt it was important to bring the best possible Internet service provider to the city of Placentia, and GigabitNow is proud to be of service. GigabitNow is excited to provide an in-demand service for residents and businesses, enabling Placentia to seamlessly experience the Internet how it is meant to be by providing awesomely fast, reliable fiber Internet and Wi-Fi speeds to residential customers and gigabit business-class Internet and digital solutions to businesses.
GigabitNow's game changing fiber Internet speeds are so fast everyone will be able to work, learn, stream and play with multiple users and multiple devices. Both of our available speeds are symmetrical, upload speeds are just as fast as download speeds. Working and attending classes from home will be simple and stress-free!
Benefits of GigabitNow Fiber Internet
No Contracts or Hidden Fees
Free Installation and Setup
Unlimited Bandwidth
Stream with Zero Buffering
Unparalleled Network Reliability
No Data Caps or Throttling Your Speed
Multiple users, multiple devices at the same time
Symmetrical Speeds: upload speeds are just as fast as download speeds
Ready for next level Fiber Internet?
If you are ready to ditch your current Internet service provider because they're slow, unreliable or you're being hit with fee after fee, upgrade to faster, more reliable connections with fiber Internet! GigabitNow provides you with awesomely fast fiber Internet speeds and the fastest Wi-Fi available today with our Wi-Fi 6 router. Plus, we don't have contracts or hidden fees like the other guys. Take your Internet experience to the next level with GigabitNow. Don't forget to check out our residential fiber Internet packages and learn how you can have the fastest Wi-Fi in town with the newest technology. Businesses in Placentia can get up to speed with awesomely fast fiber Internet and digital solutions. Check out how you can benefit from GigabitNow's fiber Internet service and order today!
---