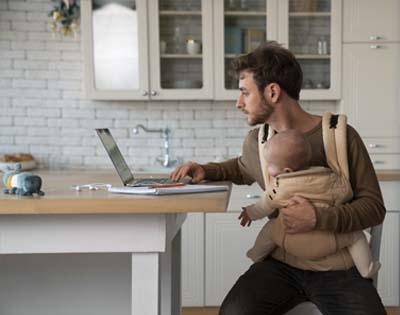 Technology is great until it suddenly stops. Now more than ever tools we use to communicate through the Internet are being put to the test as more people have to work from home, and students are having to learn through online classrooms and tools. Working from home can be positive for everyone but it also means that we need to protect the technology we are using. Doing this ensures that we can keep working and learning without falling into the hands of a cybercriminal. We have put together our top troubleshooting tips and tricks for keeping your devices protected and running smoothly while working from home:
Anti-virus software: check to make sure this is updated and in place for all of your devices.
Security software: check to make sure this is up-to-date; this include privacy tools and patches that need to be checked regularly for updates.
Firmware: firmware updates can be found on most device manufacturer websites. These can increase your performance, fix bugs or security breaches.
Wi-Fi connection: ensure your connection is secure. Sometimes older routers might not be able configured to handle today's challenges, so they may need to be updated or replaced.
File Backup: make sure that all important files are backed up regularly. Hard drive failures do happen from time to time; keeping your data securely backed up is always a good idea.
Automatic updates: make sure to turn-on automatic updates for your device's apps and other programs. Manufacturers provide security patches regularly to keep up with new threats.
Turn off unused devices: if you're not using that older computer, video game console, Internet capable DVD player or child monitor, turn off or disconnect the device. It will save power and not present a potential target to be compromised.
Taking a few extra minutes to check and to properly set up your devices is essential for the protection of all your important data, including the security and health of all your connected devices. Remember, these easy troubleshooting tips should be followed all year long to maintain the protection and health of your personal information, devices and connectivity.
(Seattle, Washington - March 19th, 2020) — GigabitNow is proud to continue to make our communities and customers our number one priority and join the FCC's Keep Americans Connected Pledge. GigabitNow has always worked to ensure the best possible Internet experience for our customers and fiber to the home communities.
GigabitNow understands the difficulties incurred by our customers during this time and continues to be committed to working with them to keep their service active and 100% free from bandwidth caps and throttling. The latest FCC call to action falls in line with our organization's goals as a 29-year private Internet company.
The Keep Americans Connected Pledge is available on the FCC's website and reads:
Given the coronavirus pandemic and its impact on American society, GigabitNow pledges for the next 60 days to:
not terminate service to any residential or small business customers because of their inability to pay their bills due to the disruptions caused by the coronavirus pandemic;
waive any late fees that any residential or small business customers incur because of their economic circumstances related to the coronavirus pandemic; and
open its Wi-Fi hotspots to any American who needs them.
During this crisis, we continue to have regular availability to customer support and field service operations. Our field teams are taking the necessary precautions to limit in-person exposure to customers while completing their duties and following the recommend cleanliness measures to limit the spread of disease. Our 24/7 Network Operations Center continues to operate to ensure close monitoring nd quick reaction to any network issue. GigabitNow's Internet services will continue to function as normal. Our team is ready and willing to help in any way we can to ensure our customer's needs are met. Internet services are up and with the maximum throughput available to our customers.
About GigabitNow: GigabitNow delivers fast, reliable, and affordable fiber Internet to communities of all sizes, without bandwidth caps and free from privacy worries or service constraints. GigabitNow focuses on providing the very best Internet experience and genuine customer support to every customer. Offering custom solutions for the development, construction, operation, support, and delivery of community-based gigabit fiber internet networks, GigabitNow is an award-winning leader in custom FTTX solutions. GigabitNow is a division of IsoFusion (www.isofusion.com), one of the largest privately held full-service ISP and colocation providers in Washington state founded in 1991. Experience the Internet how it is meant to be. Learn more at http://www.gigabitnow.com.
(Fullerton, Calif — 25th November 2019) — Construction of Fullerton's FiberCity™ network has commenced with some customers receiving service early in the New Year. SiFi Networks is funding, building and operating the city-wide fiber optic network throughout the City of Fullerton. Fiber will pass by every home and business within the City allowing every resident and business the opportunity to sign up for service, including Gigabit internet.
"The Fullerton FiberCity™ project is off to a great start with the network build on schedule to deliver the entire City within the next 18 months" commented Ben Bawtree-Jobson, CEO of SiFi Networks.
Residents and businesses will be able to choose from the networks' two Internet Service Providers Ting and GigabitNow, both offering competitive prices and exceptional customer service.
"Fullerton FiberCity™ is one of the most exciting network projects in the nation right now. Designed for speeds and reliability that put the cable and telephone companies to shame. GigabitNow are very proud to be able to provide these kinds of world-class offerings to the City of Fullerton", said Stephen Milton, CEO of GigabitNow.
"The Ting team is excited to expand into Fullerton and bring our gigabit Internet, TV, and mobile phone service to residents and businesses. We invite everyone to get to know us at ting.com/fullerton, or look for us around town" said Monica Webb, Director of Market Development & Government Affairs at Ting Internet.
The City of Fullerton will be able to utilize the network to enable Smart City applications, increase economic development and attract new businesses to the City.
"There is a plethora of Smart City options available now that we have the infrastructure to enable them. The Fullerton FiberCity™ network will not only provide our residents and businesses with the opportunity to access fiber Internet but the City the opportunity to really examine which Smart City applications can benefit Fullerton" said Mayor Silva.
Residents and businesses of Fullerton are able to pre-subscribe to service with either Internet Service Provider and will be informed once service is available at their address.
For more information on the project please visit www.FullertonFiberInternet.com.
About SiFi Networks
SiFi Networks (www.sifinetworks.com) is an international network developer. We pride ourselves on innovative construction methods, financial modelling and collaboration.
SiFi Networks funds, builds and operates community wide state of the art fiber optic networks enabling Internet Service providers to deliver next generation applications including superfast internet, video and phone.
In addition to SiFi Networks' highly experienced in-house team, we have partnered with established and award winning firms who have unparalleled experience within the sector.
SiFi Networks has offices in Orange County, LA County, New Jersey and London, UK
GigabitNow
GigabitNow provides communities of all sizes fast, reliable, and affordable fiber internet without bandwidth caps—free from constraints and privacy concerns. GigabitNow offers a complete solution for the development, construction, operation, and support of community-based gigabit fiber networks. One of the most experienced fiber-to-the-home internet providers in the United States, GigabitNow is a division of IsoFusion Incorporated. IsoFusion (www.isofusion.com) is one of the largest privately held ISP and colocation providers in Washington state. Founded in 1991 as ISOMEDIA, IsoFusion offers a full range of services including managed data center and colocation services, custom cloud computing solutions, commercial fiber, and ethernet connections, hosting and dedicated server options, and technology consulting for businesses with a national presence. For more, visit GigabitNow.com.
If you require any further information, please contact:
Sara Pickstock
SiFi Networks Communications
sara@sifinetworks.com
Dan Sivils
GigabitNow
dan@gigabitnow.com or (206) 905-8060
GigabitNow Selected To Provide Gigabit Internet Services Across The City Of Fullerton As Part Of The Largest Privately Funded Open Access FiberCity™ in the USA
(Seattle, WA – April 8th, 2019) - GigabitNow, a division of IsoFusion, a leading provider of Internet access and IT services on the west coast of the United States, announced today its involvement in bringing Gigabit Internet speeds to the residents and businesses of the city of Fullerton, California. GigabitNow will be delivering Gigabit Internet services via international fiber optic network developer, SiFi Networks' (SiFi), construction of one of the largest privately funded open access network in the United States. SiFi Networks will construct and operate the network, while GigabitNow will provide Gigabit Internet services, making fast reliable Gigabit speeds available to the community of Fullerton as part of efforts to revolutionize the North American telecoms market.

Seattle, Washington (April 17th, 2018) — GigabitNow, a division of IsoFusion, a leading provider of internet access and IT services in the Pacific Northwest, announced today that the Benaroya Companies have made an equity investment in IsoFusion and will also provide $14 million dollars in project financing capital which allows GigabitNow to significantly expand its operations. GigabitNow's new in-house financing capabilities will allow it to expedite its network construction financing for private communities and municipalities in the U.S. including the initial costs of network development and deployment.
"Over the last few years, we have seen many underserved communities, essentially abandoned by the larger Internet Service Providers (ISPs), causing them to be forced to live without the advantages of high- speed fiber broadband." said Stephen Milton, CEO of GigabitNow. "This investment and our continued expansion in the western United States allows us to continue our efforts to bring fast, reliable, fiber Internet connectivity to private communities and municipalities who can benefit from it most."