While 2020 has been a much different year than any of us could have ever anticipated, GigabitNow had many notable moments that we wanted to share with you. Check out our highlights from this year!
Project Shield
Our Gigabit City Manager participated in the assembly and distribution of over 67,000 face shields for various front line staff in Fullerton and surrounding areas through the Rotary District 5320 Project Shield.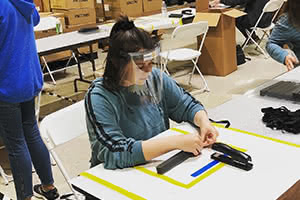 As 2020 comes to an end, we have become more and more hopeful for an awesome new year. One that will bring new and exciting opportunities and experiences for us and members of our community. In the new year, Fullerton residents and businesses can continue to count on GigabitNow to provide the fastest Wi-Fi and Internet service in Fullerton and to always find ways to give you the best Internet experience possible.
---